If I told this to my gran 20 years ago…
If I told this to my gran 20 years ago…
She would have laughed at me 🤣
Yet, this is happening literally all around us this day and age
And I'm not talking about the C word 🤐
I'm talking about meeting people on this thing that lives in the sky – the internet
Which they then pay you without even meeting you face to face
And in some cases not knowing who you are at all
Yet as you read this, there is a good chance we have never actually met in real life
Yet, you know a lot about me
Now imagine me telling her that one 20 years ago 😬
They can check out your house on Google Maps
They can see your most favourite restaurant by looking at where you check in the most on Facebook 
And this is exactly why when someone Google's you
It need to first needs to show you
And secondly in a good light 💡 
As they say… if it's on the internet, it must be true 
Now onto the point of this post 🤗
Yesterday we released a very special offer to celebrate the return of FitPro Web Design
The first 5 people to join the new service will pay NO set-up fee
And the first slot has already gone to a FitPro in Norwich in the UK
Now let me ask you this…
If someone Google's your business, does your website load up??
If you don't have a website, then we need to talk
If the website does load and literally makes your cringe, then we need to talk too
Only 4 spaces left on this launch offer
You in?
David 🙂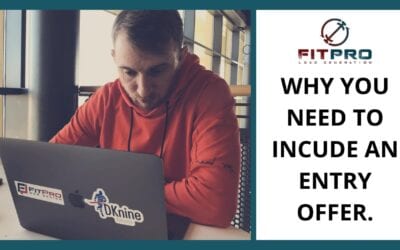 This week has been all about sales and convincing prospects to become a lead or purchase your programme 💸 Gary spoke all about behaviour change when it comes to generating leads and making sales Tuesday was 5 top tips 5️⃣ And Wednesday was what's working right now...
Hi I'm David 🙂
I Help FitPros Around The World Generate Leads On A Daily Basis, With Lead Generating Websites, Laser Targeted Facebook Ads and "The Portal"
Download Your FREE "Copy & Paste" Guide