Your questions answered 👊
One of the easiest ways to create content is to write about the questions you get asked
Because I can guarantee that if one person has asked you that question
There are dozens more thinking about this exact question too
Therefore write about the questions you get asked and add a CTA to the end
With most questions you get asked, I can probably bet you can create 2-3 if not more bits of content about the topic 🙌
Anyway…
Yesterday I got asked a question, it was a reply to the email I sent out
Asking what our nutrition set up is for DKnine Fitness
** If you have questions you wanted answered – simply send them over 🤓 **
I emailed him back then am doing exactly what I talked about at the start
Creating content around that question 👊
So here is our nutrition set up at DKnine…
1) We have been using Naomi Carson from Fitpro Recipes ever since we started all those years back
From here we have a 7-day meal plan, which we use as a FREE Download. We also have the 21-day meal plan, plus we have one of her recipe books
Then, on a monthly basis, we get 15 new recipes and a couple of videos
2) We also use Shane Nugent, using his Gold Package.
This is a monthly content pack that gets sent over with a load of content, from science-based research to recipe cards, challenges and more
3) We now have a coach who is qualified in the nutrition field, she works closely with the higher paying clients on guiding them with nutrition and answering all their questions.
4) Finally, we have just signed up to Coach Catalyst. This was for more about holding the clients accountable, what we found out after joining was they also give you templates and challenges to hold your clients accountable with their nutrition
Nutrition is usually the biggest pain for most FitPros so if you are struggling to get all your clients on board with nutrition, then know you are not alone
Plus don't forget, if you would rather watch these emails, then simply head over to one of our Social Media Channels or YouTube
David 🙂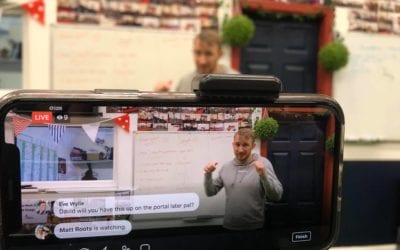 Yesterday the British Prime Minister announced a complete lockdown of the UK We are only allowed to leave our homes for a quick trip for essential Therefore now is the perfect time to really work hard on the back end of your business Your… ✅ Lead Gen Funnels ✅...
Hi I'm David 🙂
I Help FitPros Around The World Generate Leads On A Daily Basis, With Lead Generating Websites, Laser Targeted Facebook Ads and "The Portal"
Download Your FREE "Copy & Paste" Guide