What's Working for us When it Comes to an Online Programme

What's Working for us When it Comes to an Online Programme
This week has been all about getting started online or transitioning your face to face business online during lockdown
In our guest interview, Tobias gave us his 9 steps to setting up a super successful online fitness business 😃
Yesterday we gave you 5 steps to running your Facebook ads, to generate the right leads and setting up the right funnel to take you from cold leads to warm leads to buyers
Today, I'm sharing with you what's working when it comes to offers for an online programme
For example, we want to start running an online programme
Specifically to bring them back into your business when you re-open
You could run a low-end programme
To get people in, give them zoom sessions & hold them accountable 👉🏼
The problem though, is if you charge £200 in your face to face business it's going to be harder to transfer them back into your business
Plus, spend loads on ads for a low-end programme, as the cost involved to get them signed up is £50-£60 a sale
So it's harder to make that money back
Plus, if you offer them a 12 month programme
You have to consider that in 2-3 weeks or 1 months time you might be moving back to your face to face coaching and not have the time 🤯
SO….
Consider your options
How you're going to structure it ✅
Perhaps offer them a price for your programme and give them online until you re-open 💰
Really think about the offer you will put out
With the idea you will be bringing them back into the gym
Remember, people who want to train online often have different approaches to exercise 🏃🏻‍♂️
People who come to the gym need the extra accountability, support, social aspects
A few things there to consider for you all!
Check out yesterdays video if you're interested in how to set this all up 🤗
David 🙂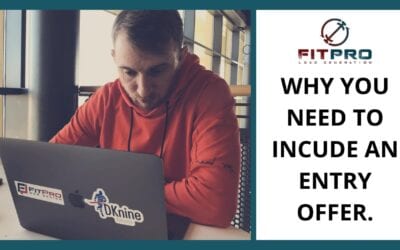 This week has been all about sales and convincing prospects to become a lead or purchase your programme 💸 Gary spoke all about behaviour change when it comes to generating leads and making sales Tuesday was 5 top tips 5️⃣ And Wednesday was what's working right now...
Hi I'm David 🙂
I Help FitPros Around The World Generate Leads On A Daily Basis, With Lead Generating Websites, Laser Targeted Facebook Ads and "The Portal"
Download Your FREE "Copy & Paste" Guide