5 Tips for Transitioning Your Fitness Business Online
5 Tips for Transitioning Your Fitness Business Online
This week is all about either getting set up online or transitioning online during lockdown
What we're focussing on today is how to set up to go online if you are transitioning from face to face 💻
Yesterday Tobias shared his experiences in setting up a business as an online trainer
Today, we're sharing our 5 tips!
Let's get started ⬇️
1️⃣ Bump up your radius!
If you have been running ads previously you have probably put markers down at 8km because you know that's the distance people will travel
Now you're going online
Bump it up a few km, maybe 10 or 12 🚗
It increases awareness but you aren't going too far
So there's a good chance you can transition them back into your face to face business if they really love it 😍
2️⃣ Keep your audience wide
When it comes to the ad set of your advert
We need to be careful that we're not going overkill and choosing too much of what our audience will be like
Unless its super niche
Narrow it down too much and no one will download your free Ebook
This is the initial stage
So we need to allow people to show interest
Start with gender, age and location to begin
Keep your audience wide 🤗
3️⃣Give something away for free
It's important you know running online ads is very different to running ads for a face to face gym
With face to face you can put ads up with name, email and phone number
Ring them up and invite them for a chat 📞
With online, there's a barrier
It's harder for them to build trust to buy from you
So give away something for free
A 5-day free course, a free ebook
Something to get them to engage and get started with your business 😁
So, put out a free lead magnet, get people added to your email list
This way you can then run a retargeting ad
And start to build up a pool of potential leads and condense it down to people most likely to buy from you 💰
4️⃣ Run a retargeting ad
Lets say you ran a free 7 day meal plan for everyone over 30
In step 4 we want to retarget them with either a webinar, a testimonial video or a free course
So you are showing better quality content to people who have already shown interest
That way you are warming up your leads! 🔥
5️⃣ Sell!
These leads are now relatively warm
They know a bit about you
Now we retarget again, with an opportunity to purchase from you 💸
This could be done via an application form or straight to sales page
This is your final step to convince this cold lead from a couple of days ago
To come and buy from you 💸
⬇️ ⬇️ ⬇️ ⬇️
Those are the steps I would suggest if you are trying to transition online to keep your business going and then transition back when lockdown is over
Online ads are far harder than face to face ads simply because of trust and knowledge 🤯
It's way harder to sell online when someone doesn't know a lot about you
This is far lengthier than a face to face programme
But it's all about building that trust
And that's why it's important to have these processes in place 🙌🏻
David 🙂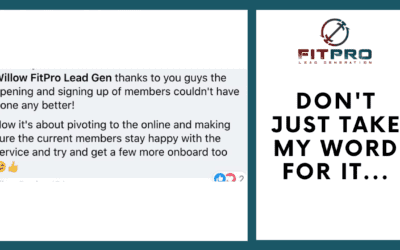 Part of Willow's job is to be the client care manager for all the FitPro Portal clients She is the first person to welcome them into the team, sends out all of their welcome cards, sends out Christmas cards, Birthday cards and so much more. Plus she checks in with...
Hi I'm David 🙂
I Help FitPros Around The World Generate Leads On A Daily Basis, With Lead Generating Websites, Laser Targeted Facebook Ads and "The Portal"
Download Your FREE "Copy & Paste" Guide