If you're a fitness business owner advertising on Facebook, you might be concerned about the possibility of your ad account being disabled.
Facebook is cracking down on policy violations and community standards, and fitness businesses are more prone to these pitfalls than you might think. Here are some of the reasons why your ad account may have been banned and how to avoid them:
Policy Violations
Facebook has strict advertising policies that businesses must adhere to. Policy violations can include using personal attributes in your ads, using restricted keywords related to sensitive issues, and making ads that contain before and after photos or photos with unlikely results.
Additionally, low-quality ads that have poor grammar, punctuation, and frequent use of capital letters can also lead to ad accounts being disabled. To avoid these issues, be sure to read and follow Facebook's policies thoroughly, and remove all disapproved ads.
The back-end stuff
These are violations that don't affect the ad experience for your audience, so you might not even think of them.
These include logging in from various IP addresses, not limiting your ad account's access, using the same payment method for all ad accounts (more common for gyms or facilities with multiple locations and assets), not setting up Multi-Factor Authentication, and having late payment issues.
Be strict with all users related to your ad account and use different payment methods for each ad account.
The Post-Click Experience
Lastly, ensure that your landing pages have clear intentions and are consistent with your ad content. This is where a lot of those 'circumventing systems' rejections tend to come from for fitness businesses.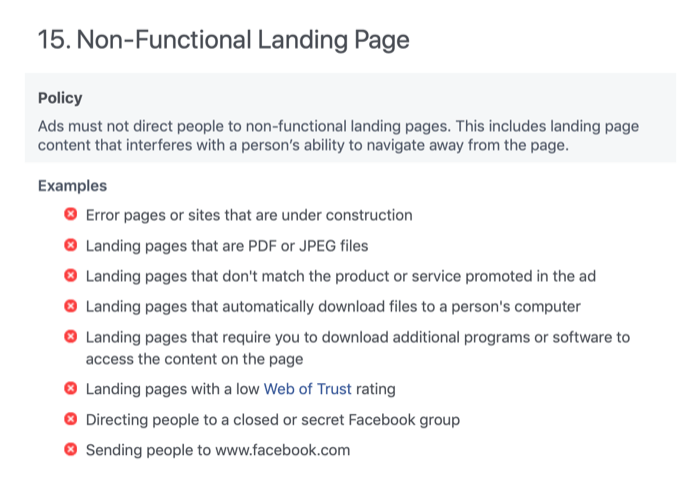 Appealing a Disabled Ad Account
You've probably googled 'how to unban my Facebook ad account' and seen conflicting information about what to do. So to get straight to the point…Do NOT click 'request a review.'
The 48-hour decision window sounds reasonable enough in theory, but in reality, these bans work on a first-come, first-served basis and it's…a hit-and-miss system at best.
48 hours can quickly turn into a week, a week into a fortnight, and if you're unlucky, upwards of a month.
Before you go "but surely if I open a support chat with Facebook, I can speed things up!"
Nope. You'll be met with the same spiel they serve everyone. Something along the lines of understanding your frustration and being happy to help, only to turn around and state that your case can't be escalated and (in so many words) they'll get to it when they get to it.
After what I just told you, you won't believe what's coming next. The same people I just told you to avoid are who you ought to go to first.
Yes, that's right. Go through Facebook support without submitting a review request, otherwise, your appeal may be left to expire and your account will end up being permanently banned.
While there may be a language barrier and some heavily scripted responses, the Facebook ads support agents have their own form they submit to the internal team. To do this, you need to:
1 – Head over to the Meta Business Help Centre and click 'contact advertising support'
2 – Select the relevant issue
3 – Select your ad account from the drop-down menu
By that point, you should be met with some troubleshooting tips that you've probably already tried, so if they don't give you the help you were after, click 'contact support.'
They'll soon reach out to you via a messenger chat, or if they can't get a hold of you, call you on the number you provide.
You'll then need to explain the situation and state your case. From there, your chances of getting the ad account reinstated are about 50/50. Here are some things to keep in mind:
How many times have your ads been rejected before?
What's your ad account's approval rate versus rejection rate?
Have you explained your situation clearly to Facebook ad support?
Have you figured out exactly which ad policy you violated?
Have you fixed any policy violations on your landing pages before contacting Facebook support?
Are you running a business model that's under more scrutiny?
Did you try to circumvent systems after getting rejected?
If your ad account was disabled because of a bigger issue or you' don't know why it was disabled or you're unsure of where you went wrong, you should create a new Facebook Business Manager account.
Keep in mind that if you don't figure out what triggered the automations to flag you in the first place, creating new Business Manager accounts or ad accounts won't help. Identify the issues, fix them, and then appeal. If that doesn't work, start fresh with a new ad account that doesn't have the same issues.
Wouldn't it be great if you could still reap the rewards of paid ads without the stress of staying compliant? You can! Keep scrolling.
Are you struggling to keep up with Facebook's constantly changing ad policies while trying to effectively promote your fitness business? We understand how frustrating and time-consuming this can be.
That's why our 'Done for You' Ads Management Service stays up to date on all of Facebook's ad policies and best practices, so you can focus on what you do best – running your business.
We'll work with you to create customized ad campaigns that not only promote your fitness business in your tone of voice but also ensure compliance with all of Facebook's policies! Plus, we'll monitor your campaigns, make adjustments as needed, and provide you with regular reports on their performance.
Say goodbye to the stress and hassle of managing your Facebook ads alone. Let us take care of it for you, so you can get back to doing what you love!
Click here to learn more about our 'Done for You' Ads Management Service and how we can help your fitness business thrive!