Never Take Your Foot Off The Gas
Never Take Your Foot Off The Gas
This week is all about succeeding in an interview & finding your first set of clients
On Monday Gemma shared her strategies with being so successful in job interviews, moving online, insights into how to find people, find jobs & find clients
On Tuesday, we gave you an insight into what we would be looking for as an employer
And yesterday, we shared with you the break down on getting started with Facebook Ads & showed you how we do this inside The FitPro Portal Lite
Today I'm going to share a foundation lead generation tip
Yesterday we chatted about facebook ads and using them to generate leads
But what we are all guilty of doing at some point or another ⬇️
We think we're doing well and we have all the clients we need
So, we turn off the ads ❌
We stop the marketing
But, the minute we press stop on all advertising
Clients begin to leave ?
and suddenly we're down 5-6 clients and haven't had anyone in new
That's when panic sets in…and you realise you dont have much spare cash to get the ads running again
So…make sure you still keep running adverts
They don't need to have a big spend
Just have a few leads trickling in each week ??
To keep filling those spaces
I've been there…I had 35 clients and managed to drop down to 20
I didn't consistently replace them and really started to panic
And that's when it hit me, I need to keep my advertising going ??
David 🙂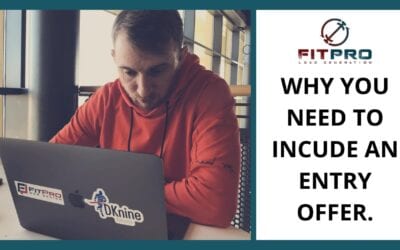 This week has been all about sales and convincing prospects to become a lead or purchase your programme 💸 Gary spoke all about behaviour change when it comes to generating leads and making sales Tuesday was 5 top tips 5️⃣ And Wednesday was what's working right now...
Hi I'm David 🙂
I Help FitPros Around The World Generate Leads On A Daily Basis, With Lead Generating Websites, Laser Targeted Facebook Ads and "The Portal"
Download Your FREE "Copy & Paste" Guide