Do Your Research And Get Designing…
This week we've been focussing on organic
We started the week off with Joe Mitton talking about how he's grown a worldwide online business completely organically
Then yesterday we shared our 4 top tips for organically growing your business
Growing a business organically in this industry means we don't have to spend money but it really helps us to grow
So for What's Working Wednesday we're talking about clothing
Every month we put in the Members FB group that we're doing an order for new clothing. People can order t-shirts, leggings, hoodies all with our logo and some cool slogans on it
We're always coming up with new designs and people love to buy them and stay up to date
The clients feel involved, it makes you money and they're promoting you wherever they go when they wear your clothing
We know when they go out in their clothing we are getting free promotion
We have to make the clothing easy to wear and comfortable so they're happy to wear it all the time, from Tesco to keeping warm in their hoody after the pub
If someone has seen your ad and then seen a couple of your hoodies around town, they will notice ??
So, do some research and get designing some cool clothing to sell to your clients
This isn't about the money you make off the t-shirts, it's about getting your business out there and noticed
This is a great way to organically boost your reach
David 🙂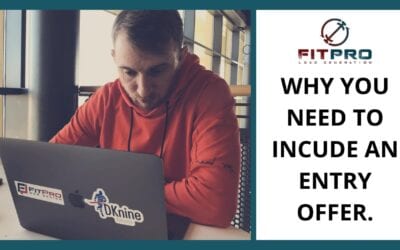 This week has been all about sales and convincing prospects to become a lead or purchase your programme 💸 Gary spoke all about behaviour change when it comes to generating leads and making sales Tuesday was 5 top tips 5️⃣ And Wednesday was what's working right now...
Hi I'm David 🙂
I Help FitPros Around The World Generate Leads On A Daily Basis, With Lead Generating Websites, Laser Targeted Facebook Ads and "The Portal"
Download Your FREE "Copy & Paste" Guide