The Facebook Ads Management Service
That dreaded feeling of looking in your diary and seeing ZERO consultations for the next few days

Then thinking to yourself… Where is the next set of leads going to come from?


You have tried all the marketing courses out there


Even tried your hand at running Facebook Ads
Yet, you either struggle to generate leads or just don't have the time to keep on top of the lead generation process
Well…

Let me tell you about a simple solution that generates you LEADS EVERYDAY
Where all you need to do is open your leads, chase them up and make the sale ?
It's called: The Facebook Ads Management Service
Where we take care of everything…
✅ We create the Facebook Advert, Images, Videos and adjust to get the best possible return
✅ We create the Landing Pages, Thank You Pages and Application Forms
✅ We put all the Facebook Pixels in the right place
✅ We then send the leads to your preferred Lead Tracker
✅ We connect you up to your email marketing system, were we even give you follow up emails to send
✅ We connect you up to Auto Text Messaging Systems to let the leads know that you will be in contact shortly
✅ Weekly call to chat about what you need help with when it comes to chasing leads
✅ Plus 24/7 access to us to answer any of your questions ?
This is the exact same set up we use for MY OWN GYM, DKnine Fitness

The exact same formula we teach in The FitPro Portal
And all you need to do is… CHASE THE LEADS AND MAKE THE SALES ?
Interested❓❓
Then here are the key numbers you want to consider
The service costs £450 per month

Your ad spend needs to be around £5-£10 per day
So if you charge say £50 per month
Then all you need to do is sell 3 new memberships a week to breakeven ?


And 4 to make a profit on the Front End ?

Want to know more??

Then drop me a message and let's have a chat

David :)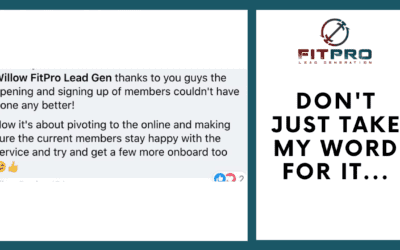 Part of Willow's job is to be the client care manager for all the FitPro Portal clients She is the first person to welcome them into the team, sends out all of their welcome cards, sends out Christmas cards, Birthday cards and so much more. Plus she checks in with...
Hi I'm David 🙂
I Help FitPros Around The World Generate Leads On A Daily Basis, With Lead Generating Websites, Laser Targeted Facebook Ads and "The Portal"
Download Your FREE "Copy & Paste" Guide