[et_pb_section fb_built="1″ fullwidth="on" _builder_version="3.22″ use_background_color_gradient="on" background_color_gradient_start="rgba(0,0,0,0.8)" background_color_gradient_end="rgba(0,0,0,0.8)" background_position="top_center" custom_padding="0px|0px|0|0px|false|false"][et_pb_fullwidth_post_title meta="off" featured_placement="background" text_color="light" _builder_version="3.19.4″ title_font="|700||on|||||" title_text_align="center" title_font_size="70px" use_background_color_gradient="on" background_color_gradient_start="rgba(0,0,0,0.65)" background_color_gradient_end="rgba(0,0,0,0.65)" background_color_gradient_overlays_image="on" background_repeat="repeat" text_orientation="center" title_font_size_tablet="" title_font_size_phone="40px" title_font_size_last_edited="on|phone" title_text_shadow_style="preset1″][/et_pb_fullwidth_post_title][/et_pb_section][et_pb_section fb_built="1″ _builder_version="3.22″ background_color="#f4f4f4″ background_color_gradient_direction="167deg" custom_padding="|0px||0px|false|false"][et_pb_row _builder_version="3.25″ background_color="#ffffff" custom_margin="|||" custom_padding="20px|20px|0|30px|false|false" box_shadow_style="preset1″][et_pb_column type="4_4″ _builder_version="3.0.47″ custom_padding="|||" custom_padding__hover="|||"][et_pb_text _builder_version="4.4.8″ custom_padding="||0px|0px||" hover_enabled="0″ z_index_tablet="500″ text_text_shadow_horizontal_length_tablet="0px" text_text_shadow_vertical_length_tablet="0px" text_text_shadow_blur_strength_tablet="1px" link_text_shadow_horizontal_length_tablet="0px" link_text_shadow_vertical_length_tablet="0px" link_text_shadow_blur_strength_tablet="1px" ul_text_shadow_horizontal_length_tablet="0px" ul_text_shadow_vertical_length_tablet="0px" ul_text_shadow_blur_strength_tablet="1px" ol_text_shadow_horizontal_length_tablet="0px" ol_text_shadow_vertical_length_tablet="0px" ol_text_shadow_blur_strength_tablet="1px" quote_text_shadow_horizontal_length_tablet="0px" quote_text_shadow_vertical_length_tablet="0px" quote_text_shadow_blur_strength_tablet="1px" header_text_shadow_horizontal_length_tablet="0px" header_text_shadow_vertical_length_tablet="0px" header_text_shadow_blur_strength_tablet="1px" header_2_text_shadow_horizontal_length_tablet="0px" header_2_text_shadow_vertical_length_tablet="0px" header_2_text_shadow_blur_strength_tablet="1px" header_3_text_shadow_horizontal_length_tablet="0px" header_3_text_shadow_vertical_length_tablet="0px" header_3_text_shadow_blur_strength_tablet="1px" header_4_text_shadow_horizontal_length_tablet="0px" header_4_text_shadow_vertical_length_tablet="0px" header_4_text_shadow_blur_strength_tablet="1px" header_5_text_shadow_horizontal_length_tablet="0px" header_5_text_shadow_vertical_length_tablet="0px" header_5_text_shadow_blur_strength_tablet="1px" header_6_text_shadow_horizontal_length_tablet="0px" header_6_text_shadow_vertical_length_tablet="0px" header_6_text_shadow_blur_strength_tablet="1px" box_shadow_horizontal_tablet="0px" box_shadow_vertical_tablet="0px" box_shadow_blur_tablet="40px" box_shadow_spread_tablet="0px"]
Do you ever think how different life would be if you no longer had to scramble around for leads?

Maybe you'll wake up one morning with 6 new applicants ready to join your online program …

Or you'll be able to spend more time with your family because you have a system that guarantees you leads…

And lets you build a business around your life — on your terms

(No more 6am starts, 9pm finishes, or having to give up your weekends, just to get by) …

Or maybe you'll sleep better, have less stress, and feel happier because you don't have to worry about where your next client or member will come from to pay the bills.

That's what's great about the Fit Pro Portal – You literally have all the tools, training and template to build a successful fitness business.

Whether you're a gym owner, a PT in a commercial gym, online coach, Cross fit coach, or an outdoor trainer… whatever the niche, there's something for you.

I want you to have the same success without making the mistakes I talked about earlier this week.

And there's no better way than the FitPro Portal

As a valued member, you'll discover…


How to 'copy n paste' your way to high-converting Facebook ads with our done-for-you copy templates… so you never have to worry about what to write and avoid the Facebook policy minefield.

How you can start posting valuable content specific to your audience with our "Social content" of the moth swipe file, so you never have to panic when you don't know what to post.

Facebook Ads Mastery For FitPros –

A simple 21-Step Facebook Ads lead gen system taking a prospect from Facebook to paying client with zero hassle.

A continually updated database –

Loaded with everything you'll ever need to build a sustainable business, retain clients, and enhance your positioning.

Daily Study Hour – Each day at 2 pm UK time we have a dedicated Zoom Room to help you make the most of the programme

Website Design Course

– Taking you step-by-step from having no website to building your first, including ready to go templates and SEO tactics to stand out amongst your competition.

And a whole lot more.

Here's what members have had to say…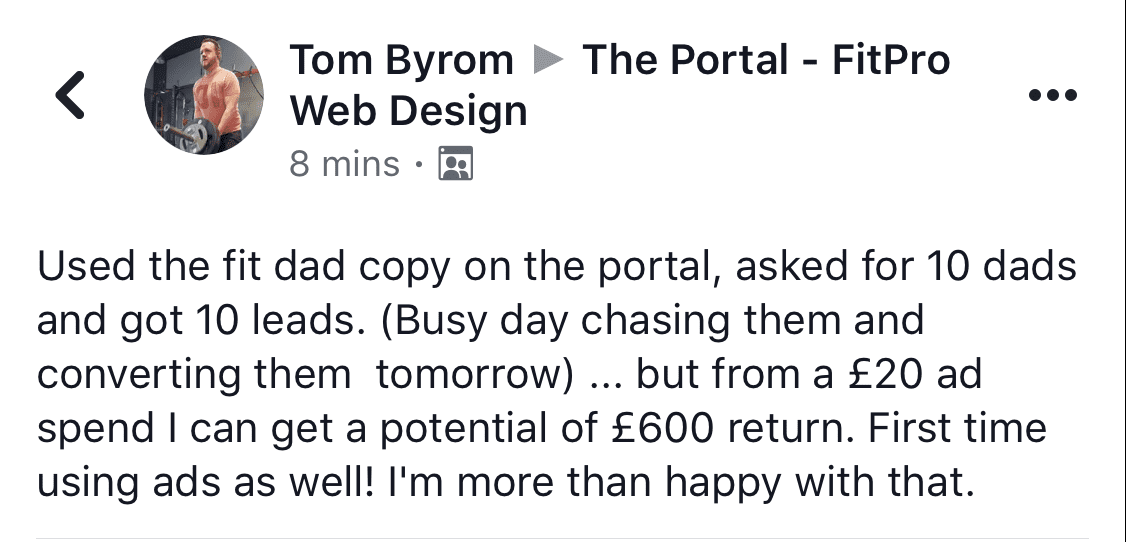 If you want to see more results like this and discover how you could do the same, click the link here: https://www.thefitproportal.com/
But hurry, the majority of spots are being snapped up. If they're gone I can only apologise.
David.
P.S  Doors will be closing up tomorrow, so ask yourself what difference it would make to your fitness business getting 5,10, even 15 leads extra a day?
If the answer is that it could change your life and your business dramatically…
Then grab 1 of the 9 spots by clicking here now: https://www.thefitproportal.com/
[/et_pb_text][et_pb_divider color="#000000″ _builder_version="3.12.2″ height="0px" custom_margin="||0px|" custom_padding="||0px|"][/et_pb_divider][et_pb_text _builder_version="4.2.2″ custom_margin="0px||0px|" custom_padding="0px||0px|" z_index_tablet="500″ text_text_shadow_horizontal_length_tablet="0px" text_text_shadow_vertical_length_tablet="0px" text_text_shadow_blur_strength_tablet="1px" link_text_shadow_horizontal_length_tablet="0px" link_text_shadow_vertical_length_tablet="0px" link_text_shadow_blur_strength_tablet="1px" ul_text_shadow_horizontal_length_tablet="0px" ul_text_shadow_vertical_length_tablet="0px" ul_text_shadow_blur_strength_tablet="1px" ol_text_shadow_horizontal_length_tablet="0px" ol_text_shadow_vertical_length_tablet="0px" ol_text_shadow_blur_strength_tablet="1px" quote_text_shadow_horizontal_length_tablet="0px" quote_text_shadow_vertical_length_tablet="0px" quote_text_shadow_blur_strength_tablet="1px" header_text_shadow_horizontal_length_tablet="0px" header_text_shadow_vertical_length_tablet="0px" header_text_shadow_blur_strength_tablet="1px" header_2_text_shadow_horizontal_length_tablet="0px" header_2_text_shadow_vertical_length_tablet="0px" header_2_text_shadow_blur_strength_tablet="1px" header_3_text_shadow_horizontal_length_tablet="0px" header_3_text_shadow_vertical_length_tablet="0px" header_3_text_shadow_blur_strength_tablet="1px" header_4_text_shadow_horizontal_length_tablet="0px" header_4_text_shadow_vertical_length_tablet="0px" header_4_text_shadow_blur_strength_tablet="1px" header_5_text_shadow_horizontal_length_tablet="0px" header_5_text_shadow_vertical_length_tablet="0px" header_5_text_shadow_blur_strength_tablet="1px" header_6_text_shadow_horizontal_length_tablet="0px" header_6_text_shadow_vertical_length_tablet="0px" header_6_text_shadow_blur_strength_tablet="1px" box_shadow_horizontal_tablet="0px" box_shadow_vertical_tablet="0px" box_shadow_blur_tablet="40px" box_shadow_spread_tablet="0px"]
[/et_pb_text][/et_pb_column][/et_pb_row][/et_pb_section][et_pb_section fb_built="1″ _builder_version="3.22″][et_pb_row _builder_version="3.25″][et_pb_column type="4_4″ _builder_version="3.0.47″ custom_padding="|||" custom_padding__hover="|||"][et_pb_blog fullwidth="off" posts_number="3″ show_author="off" show_date="off" show_categories="off" _builder_version="3.11″][/et_pb_blog][/et_pb_column][/et_pb_row][/et_pb_section][et_pb_section fb_built="1″ fullwidth="on" _builder_version="3.22″ use_background_color_gradient="on" background_color_gradient_start="rgba(0,0,0,0.66)" background_color_gradient_end="rgba(0,0,0,0.66)" background_color_gradient_overlays_image="on" background_image="https://www.fitproleadgen.com/wp-content/uploads/2018/08/40231335_2150671258546666_24434438314131456_n.jpg" custom_padding="100px|0px|100px|0px|false|false" saved_tabs="all"][et_pb_fullwidth_header button_one_text="Download Your FREE %22Copy & Paste%22 Guide" button_one_url="1″ module_id="guide-blog" _builder_version="3.16″ title_font="|700|||||||" title_font_size="70px" content_font="||||||||" content_font_size="27px" content_line_height="1.1em" background_color="#7EBEC" custom_button_one="on" button_one_text_size="17px" button_one_text_color="#ffffff" button_one_bg_color="#e02b20″ button_one_border_radius="100px" button_one_font="|700|||||||" custom_button_two="on" button_two_text_size="17px" button_two_text_color="#ffffff" button_two_bg_color="#000d63″ button_two_border_radius="100px" button_two_font="|700|||||||" box_shadow_style_button_one="preset1″ box_shadow_style_button_two="preset1″ button_one_text_color_hover="#000000″ button_two_text_color_hover="#000000″ button_one_border_color_hover="#000000″ button_two_border_color_hover="#000000″ button_one_letter_spacing_hover="1px" button_two_letter_spacing_hover="1px" button_one_bg_color_hover="#ffffff" button_two_bg_color_hover="#ffffff" button_one_text_size__hover_enabled="off" button_one_text_size__hover="null" button_two_text_size__hover_enabled="off" button_two_text_size__hover="null" button_one_text_color__hover_enabled="on" button_one_text_color__hover="#000000″ button_two_text_color__hover_enabled="on" button_two_text_color__hover="#000000″ button_one_border_width__hover_enabled="off" button_one_border_width__hover="null" button_two_border_width__hover_enabled="off" button_two_border_width__hover="null" button_one_border_color__hover_enabled="on" button_one_border_color__hover="#000000″ button_two_border_color__hover_enabled="on" button_two_border_color__hover="#000000″ button_one_border_radius__hover_enabled="off" button_one_border_radius__hover="null" button_two_border_radius__hover_enabled="off" button_two_border_radius__hover="null" button_one_letter_spacing__hover_enabled="on" button_one_letter_spacing__hover="1px" button_two_letter_spacing__hover_enabled="on" button_two_letter_spacing__hover="1px" button_one_bg_color__hover_enabled="on" button_one_bg_color__hover="#ffffff" button_two_bg_color__hover_enabled="on" button_two_bg_color__hover="#ffffff"]
Hi I'm David 🙂
I Help FitPros Around The World Generate Leads On A Daily Basis, With Lead Generating Websites, Laser Targeted Facebook Ads and "The Portal"[/et_pb_fullwidth_header][/et_pb_section][et_pb_section fb_built="1″ _builder_version="3.26.6″ background_color="#00194f" custom_padding="0|0px|0|0px|false|false" global_module="29642″][et_pb_row _builder_version="3.26.6″][et_pb_column type="4_4″ _builder_version="3.26.6″][et_pb_text _builder_version="3.26.6″ text_font="|700|||||||" text_text_color="#ffffff" text_font_size="60px" text_line_height="1.1em" header_font="||||||||" text_orientation="center" custom_margin="||1px|||" custom_margin_tablet="" custom_margin_phone="||30px|" custom_margin_last_edited="on|phone" text_font_size_tablet="" text_font_size_phone="40px" text_font_size_last_edited="on|phone" text_text_align="center"]
Let's Connect…
[/et_pb_text][/et_pb_column][/et_pb_row][et_pb_row column_structure="1_6,1_6,1_6,1_6,1_6,1_6″ use_custom_gutter="on" gutter_width="1″ _builder_version="3.26.6″ width="100%" module_alignment="center" custom_margin="||||false|false" custom_padding="||3px|||"][et_pb_column type="1_6″ _builder_version="3.26.6″][et_pb_blurb url="https://www.facebook.com/davidkylept" image="https://www.fitproleadgen.com/wp-content/uploads/2019/08/5-1.png" image_max_width="50%" _builder_version="3.26.6″ header_level="h1″ header_font_size="10px" body_font="|700|||||||" body_text_align="center" body_text_color="#ffffff" body_font_size="15px" custom_margin="||30px|"]
Message Me Personally On FB
[/et_pb_blurb][/et_pb_column][et_pb_column type="1_6″ _builder_version="3.26.6″][et_pb_blurb url="https://www.facebook.com/fitprowebdesign/" image="https://www.fitproleadgen.com/wp-content/uploads/2019/08/1-1.png" image_max_width="50%" _builder_version="3.26.6″ header_level="h1″ header_font_size="10px" body_font="|700|||||||" body_text_align="center" body_text_color="#ffffff" body_font_size="15px" custom_margin="||30px|"]
Message The Facebook Page
[/et_pb_blurb][/et_pb_column][et_pb_column type="1_6″ _builder_version="3.26.6″][et_pb_blurb url="https://www.facebook.com/groups/1238186096304055/" image="https://www.fitproleadgen.com/wp-content/uploads/2019/08/6-1.png" image_max_width="50%" _builder_version="3.26.6″ header_level="h1″ header_font_size="10px" body_font="|700|||||||" body_text_align="center" body_text_color="#ffffff" body_font_size="15px" custom_margin="||30px|"]
Join The Facebook Community
[/et_pb_blurb][/et_pb_column][et_pb_column type="1_6″ _builder_version="3.26.6″][et_pb_blurb url="https://www.instagram.com/fitprowebdesign/" image="https://www.fitproleadgen.com/wp-content/uploads/2019/08/2-1.png" image_max_width="50%" _builder_version="3.26.6″ header_level="h1″ header_font_size="10px" body_font="|700|||||||" body_text_align="center" body_text_color="#ffffff" body_font_size="15px" custom_margin="||30px|"]
Message Us On Instagram
[/et_pb_blurb][/et_pb_column][et_pb_column type="1_6″ _builder_version="3.26.6″][et_pb_blurb url="https://www.linkedin.com/in/davidkno9/" image="https://www.fitproleadgen.com/wp-content/uploads/2019/08/4-1.png" image_max_width="50%" _builder_version="3.26.6″ header_level="h1″ header_font_size="10px" body_font="|700|||||||" body_text_align="center" body_text_color="#ffffff" body_font_size="15px" custom_margin="||30px|"]
Message Us On LinkedIn
[/et_pb_blurb][/et_pb_column][et_pb_column type="1_6″ _builder_version="3.26.6″][et_pb_blurb url="https://www.youtube.com/channel/UCv4APz2nL5CVm-vngphvJAg" image="https://www.fitproleadgen.com/wp-content/uploads/2019/08/3-1.png" image_max_width="50%" _builder_version="3.26.6″ header_level="h1″ header_font_size="10px" body_font="|700|||||||" body_text_align="center" body_text_color="#ffffff" body_font_size="15px" custom_margin="||30px|"]
Watch Us On YouTube
[/et_pb_blurb][/et_pb_column][/et_pb_row][et_pb_row module_id="contact" module_class=" et_pb_row_fullwidth et_pb_row_fullwidth et_pb_row_fullwidth et_pb_row_fullwidth et_pb_row_fullwidth et_pb_row_fullwidth et_pb_row_fullwidth et_pb_row_fullwidth et_pb_row_fullwidth et_pb_row_fullwidth et_pb_row_fullwidth et_pb_row_fullwidth et_pb_row_fullwidth et_pb_row_fullwidth et_pb_row_fullwidth et_pb_row_fullwidth et_pb_row_fullwidth et_pb_row_fullwidth et_pb_row_fullwidth et_pb_row_fullwidth et_pb_row_fullwidth et_pb_row_fullwidth et_pb_row_fullwidth et_pb_row_fullwidth et_pb_row_fullwidth et_pb_row_fullwidth et_pb_row_fullwidth et_pb_row_fullwidth et_pb_row_fullwidth et_pb_row_fullwidth et_pb_row_fullwidth" _builder_version="3.26.6″ background_color="#00194f" width_tablet="100%" width_phone="" width_last_edited="on|desktop" max_width_tablet="100%" max_width_phone="" max_width_last_edited="on|desktop" custom_margin="|||" custom_padding="0px|0px|0|0px|false|false" make_fullwidth="on"][et_pb_column type="4_4″ _builder_version="3.26.6″ background_color="#00194f" custom_padding="30px|20px|20px|70px" custom_padding_tablet="" custom_padding_phone="|||20px" custom_padding_last_edited="on|phone" custom_padding__hover="|||"][et_pb_contact_form use_spam_service="on" recaptcha_list="FitProLeadGen-0″ recaptcha_min_score="0.7″ email="info@fitproleadgen.com" custom_message="New Email from %%Name%%, %%Email%%, %%Phone%%||et_pb_line_break_holder||||et_pb_line_break_holder||Interested In: %%Service%%||et_pb_line_break_holder||||et_pb_line_break_holder||There Message: %%Message%%" success_message="Thank you for your message. One of the team will be in contact shortly." submit_button_text="Send My Message" module_id="et_pb_contact_form_0″ _builder_version="4.4.3″ title_font="|700|||||||" title_font_size="50px" custom_button="on" button_text_size="17px" button_text_color="#ffffff" button_bg_color="#A52026″ button_border_radius="10px" button_font="|700|||||||" box_shadow_style_button="preset1″ button_letter_spacing__hover_enabled="on" button_letter_spacing__hover="1px" button_text_color_hover="#000000″ button_bg_color_hover="#ffffff" button_border_color_hover="#000000″ button_letter_spacing_hover="1px"][et_pb_contact_field field_id="Name" field_title="Name" _builder_version="3.26.6″ button_text_size__hover_enabled="off" button_one_text_size__hover_enabled="off" button_two_text_size__hover_enabled="off" button_text_color__hover_enabled="off" button_one_text_color__hover_enabled="off" button_two_text_color__hover_enabled="off" button_border_width__hover_enabled="off" button_one_border_width__hover_enabled="off" button_two_border_width__hover_enabled="off" button_border_color__hover_enabled="off" button_one_border_color__hover_enabled="off" button_two_border_color__hover_enabled="off" button_border_radius__hover_enabled="off" button_one_border_radius__hover_enabled="off" button_two_border_radius__hover_enabled="off" button_letter_spacing__hover_enabled="off" button_one_letter_spacing__hover_enabled="off" button_two_letter_spacing__hover_enabled="off" button_bg_color__hover_enabled="off" button_one_bg_color__hover_enabled="off" button_two_bg_color__hover_enabled="off"][/et_pb_contact_field][et_pb_contact_field field_id="Email" field_title="Email Address" field_type="email" _builder_version="3.26.6″ button_text_size__hover_enabled="off" button_one_text_size__hover_enabled="off" button_two_text_size__hover_enabled="off" button_text_color__hover_enabled="off" button_one_text_color__hover_enabled="off" button_two_text_color__hover_enabled="off" button_border_width__hover_enabled="off" button_one_border_width__hover_enabled="off" button_two_border_width__hover_enabled="off" button_border_color__hover_enabled="off" button_one_border_color__hover_enabled="off" button_two_border_color__hover_enabled="off" button_border_radius__hover_enabled="off" button_one_border_radius__hover_enabled="off" button_two_border_radius__hover_enabled="off" button_letter_spacing__hover_enabled="off" button_one_letter_spacing__hover_enabled="off" button_two_letter_spacing__hover_enabled="off" button_bg_color__hover_enabled="off" button_one_bg_color__hover_enabled="off" button_two_bg_color__hover_enabled="off"][/et_pb_contact_field][et_pb_contact_field field_id="Message" field_title="Message" field_type="text" fullwidth_field="on" _builder_version="3.16″ button_text_size__hover_enabled="off" button_one_text_size__hover_enabled="off" button_two_text_size__hover_enabled="off" button_text_color__hover_enabled="off" button_one_text_color__hover_enabled="off" button_two_text_color__hover_enabled="off" button_border_width__hover_enabled="off" button_one_border_width__hover_enabled="off" button_two_border_width__hover_enabled="off" button_border_color__hover_enabled="off" button_one_border_color__hover_enabled="off" button_two_border_color__hover_enabled="off" button_border_radius__hover_enabled="off" button_one_border_radius__hover_enabled="off" button_two_border_radius__hover_enabled="off" button_letter_spacing__hover_enabled="off" button_one_letter_spacing__hover_enabled="off" button_two_letter_spacing__hover_enabled="off" button_bg_color__hover_enabled="off" button_one_bg_color__hover_enabled="off" button_two_bg_color__hover_enabled="off"][/et_pb_contact_field][/et_pb_contact_form][/et_pb_column][/et_pb_row][/et_pb_section]