[et_pb_section bb_built="1″ fullwidth="on" _builder_version="3.12.2″ use_background_color_gradient="on" background_color_gradient_start="rgba(0,0,0,0.8)" background_color_gradient_end="rgba(0,0,0,0.8)" background_position="top_center" custom_padding="0px|0px|0|0px|false|false" inner_width="auto" inner_max_width="1080px" next_background_color="#f4f4f4″][et_pb_fullwidth_post_title meta="off" featured_placement="background" text_color="light" _builder_version="3.19.4″ title_font="|700||on|||||" title_text_align="center" title_font_size="70px" title_font_size_phone="40px" title_font_size_last_edited="on|phone" title_text_shadow_style="preset1″ use_background_color_gradient="on" background_color_gradient_start="rgba(0,0,0,0.65)" background_color_gradient_end="rgba(0,0,0,0.65)" background_color_gradient_overlays_image="on" background_repeat="repeat" text_orientation="center"]
[/et_pb_fullwidth_post_title][/et_pb_section][et_pb_section bb_built="1″ _builder_version="3.11″ background_color="#f4f4f4″ background_color_gradient_direction="167deg" custom_padding="|0px||0px|false|false" inner_width="auto" inner_max_width="1080px" prev_background_color="#ffffff" next_background_color="#ffffff"][et_pb_row custom_padding="20px|20px|0|20px|false|false" custom_margin="|||" _builder_version="3.12.2″ background_color="#ffffff" box_shadow_style="preset1″ width="80%" max_width="1080px"][et_pb_column type="4_4″ custom_padding__hover="|||" custom_padding="|||"][et_pb_text _builder_version="3.26.6″ text_text_shadow_horizontal_length="text_text_shadow_style,%91object Object%93″ text_text_shadow_horizontal_length_tablet="0px" text_text_shadow_vertical_length="text_text_shadow_style,%91object Object%93″ text_text_shadow_vertical_length_tablet="0px" text_text_shadow_blur_strength="text_text_shadow_style,%91object Object%93″ text_text_shadow_blur_strength_tablet="1px" link_text_shadow_horizontal_length="link_text_shadow_style,%91object Object%93″ link_text_shadow_horizontal_length_tablet="0px" link_text_shadow_vertical_length="link_text_shadow_style,%91object Object%93″ link_text_shadow_vertical_length_tablet="0px" link_text_shadow_blur_strength="link_text_shadow_style,%91object Object%93″ link_text_shadow_blur_strength_tablet="1px" ul_text_shadow_horizontal_length="ul_text_shadow_style,%91object Object%93″ ul_text_shadow_horizontal_length_tablet="0px" ul_text_shadow_vertical_length="ul_text_shadow_style,%91object Object%93″ ul_text_shadow_vertical_length_tablet="0px" ul_text_shadow_blur_strength="ul_text_shadow_style,%91object Object%93″ ul_text_shadow_blur_strength_tablet="1px" ol_text_shadow_horizontal_length="ol_text_shadow_style,%91object Object%93″ ol_text_shadow_horizontal_length_tablet="0px" ol_text_shadow_vertical_length="ol_text_shadow_style,%91object Object%93″ ol_text_shadow_vertical_length_tablet="0px" ol_text_shadow_blur_strength="ol_text_shadow_style,%91object Object%93″ ol_text_shadow_blur_strength_tablet="1px" quote_text_shadow_horizontal_length="quote_text_shadow_style,%91object Object%93″ quote_text_shadow_horizontal_length_tablet="0px" quote_text_shadow_vertical_length="quote_text_shadow_style,%91object Object%93″ quote_text_shadow_vertical_length_tablet="0px" quote_text_shadow_blur_strength="quote_text_shadow_style,%91object Object%93″ quote_text_shadow_blur_strength_tablet="1px" header_text_shadow_horizontal_length="header_text_shadow_style,%91object Object%93″ header_text_shadow_horizontal_length_tablet="0px" header_text_shadow_vertical_length="header_text_shadow_style,%91object Object%93″ header_text_shadow_vertical_length_tablet="0px" header_text_shadow_blur_strength="header_text_shadow_style,%91object Object%93″ header_text_shadow_blur_strength_tablet="1px" header_2_text_shadow_horizontal_length="header_2_text_shadow_style,%91object Object%93″ header_2_text_shadow_horizontal_length_tablet="0px" header_2_text_shadow_vertical_length="header_2_text_shadow_style,%91object Object%93″ header_2_text_shadow_vertical_length_tablet="0px" header_2_text_shadow_blur_strength="header_2_text_shadow_style,%91object Object%93″ header_2_text_shadow_blur_strength_tablet="1px" header_3_text_shadow_horizontal_length="header_3_text_shadow_style,%91object Object%93″ header_3_text_shadow_horizontal_length_tablet="0px" header_3_text_shadow_vertical_length="header_3_text_shadow_style,%91object Object%93″ header_3_text_shadow_vertical_length_tablet="0px" header_3_text_shadow_blur_strength="header_3_text_shadow_style,%91object Object%93″ header_3_text_shadow_blur_strength_tablet="1px" header_4_text_shadow_horizontal_length="header_4_text_shadow_style,%91object Object%93″ header_4_text_shadow_horizontal_length_tablet="0px" header_4_text_shadow_vertical_length="header_4_text_shadow_style,%91object Object%93″ header_4_text_shadow_vertical_length_tablet="0px" header_4_text_shadow_blur_strength="header_4_text_shadow_style,%91object Object%93″ header_4_text_shadow_blur_strength_tablet="1px" header_5_text_shadow_horizontal_length="header_5_text_shadow_style,%91object Object%93″ header_5_text_shadow_horizontal_length_tablet="0px" header_5_text_shadow_vertical_length="header_5_text_shadow_style,%91object Object%93″ header_5_text_shadow_vertical_length_tablet="0px" header_5_text_shadow_blur_strength="header_5_text_shadow_style,%91object Object%93″ header_5_text_shadow_blur_strength_tablet="1px" header_6_text_shadow_horizontal_length="header_6_text_shadow_style,%91object Object%93″ header_6_text_shadow_horizontal_length_tablet="0px" header_6_text_shadow_vertical_length="header_6_text_shadow_style,%91object Object%93″ header_6_text_shadow_vertical_length_tablet="0px" header_6_text_shadow_blur_strength="header_6_text_shadow_style,%91object Object%93″ header_6_text_shadow_blur_strength_tablet="1px" box_shadow_horizontal_tablet="0px" box_shadow_vertical_tablet="0px" box_shadow_blur_tablet="40px" box_shadow_spread_tablet="0px" z_index_tablet="500″]
We do ads for a number of clients in the UK & around the world
We have a few who we never hear from, they just want leads
We have others who are always asking for tips, hints, feedback and so on
And then we have the TRACKERS!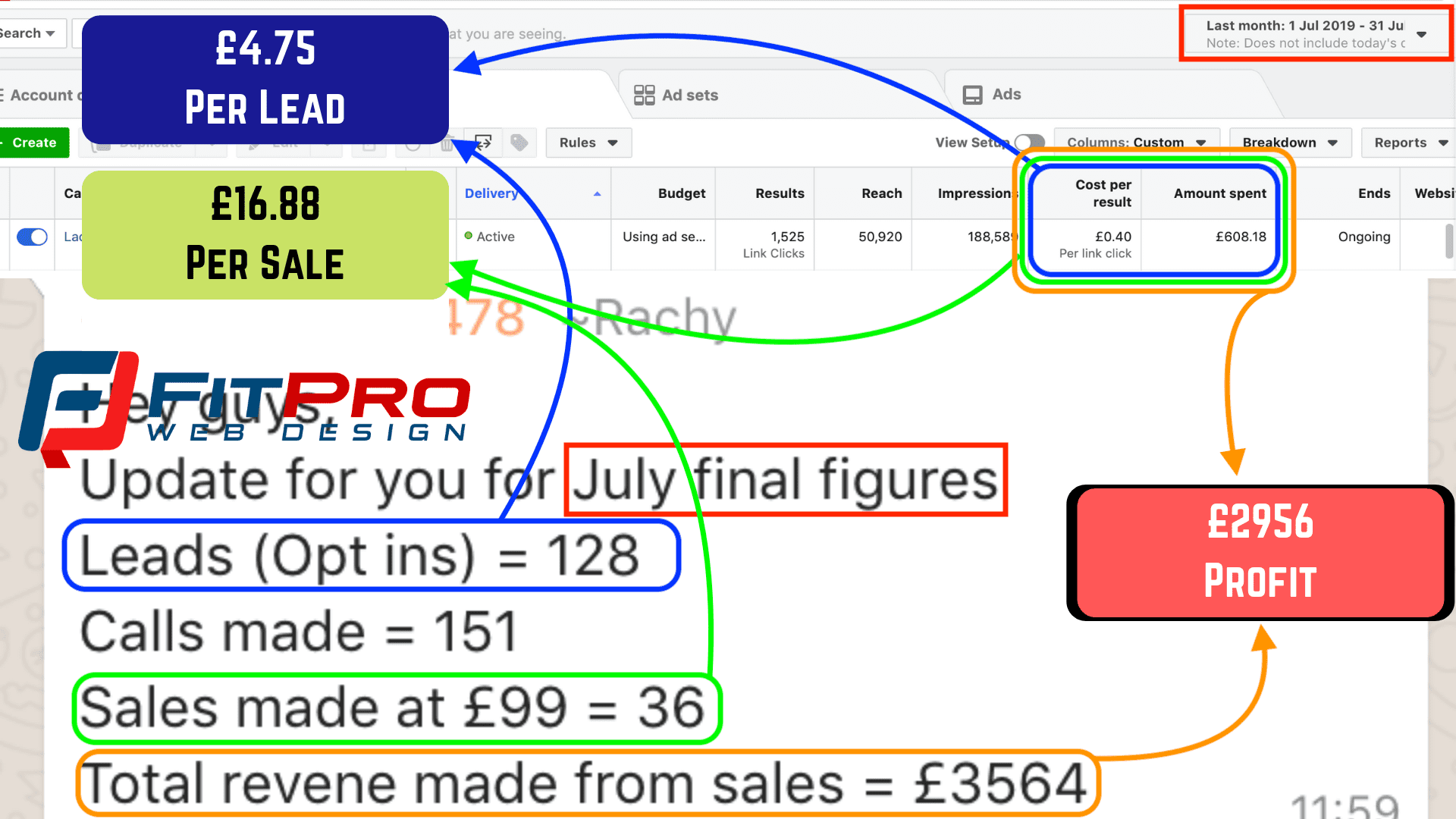 This particular client is a tracker, or her team do that for her
They track everything, from cost per lead, to cost per application form, cost per sales, how many phone calls made and so much more
WHY❓
Because knowing these numbers will make you MORE MONEY ?
It will highlight areas that are doing well
It will highlight areas that need working on
It will show you how what you need to do to make the most of the money you are spending ?
Take the Cost Per Sale… If they could get that under £16, that would improve their PROFIT
If we could get the cost per lead down a little, that would increase their PROFIT
Small changes…
Leading to BIG RESULTS TRACK YOUR RESULTS ?
David 🙂
Ps… Want to know how we can help you get similar results? Then drop us a message
[/et_pb_text][et_pb_divider color="#000000″ _builder_version="3.12.2″ custom_margin="||0px|" custom_padding="||0px|" height="0px"]
[/et_pb_divider][et_pb_text _builder_version="3.25.2″ custom_margin="0px||0px|" custom_padding="0px||0px|" text_text_shadow_horizontal_length="text_text_shadow_style,%91object Object%93″ text_text_shadow_horizontal_length_tablet="0px" text_text_shadow_vertical_length="text_text_shadow_style,%91object Object%93″ text_text_shadow_vertical_length_tablet="0px" text_text_shadow_blur_strength="text_text_shadow_style,%91object Object%93″ text_text_shadow_blur_strength_tablet="1px" link_text_shadow_horizontal_length="link_text_shadow_style,%91object Object%93″ link_text_shadow_horizontal_length_tablet="0px" link_text_shadow_vertical_length="link_text_shadow_style,%91object Object%93″ link_text_shadow_vertical_length_tablet="0px" link_text_shadow_blur_strength="link_text_shadow_style,%91object Object%93″ link_text_shadow_blur_strength_tablet="1px" ul_text_shadow_horizontal_length="ul_text_shadow_style,%91object Object%93″ ul_text_shadow_horizontal_length_tablet="0px" ul_text_shadow_vertical_length="ul_text_shadow_style,%91object Object%93″ ul_text_shadow_vertical_length_tablet="0px" ul_text_shadow_blur_strength="ul_text_shadow_style,%91object Object%93″ ul_text_shadow_blur_strength_tablet="1px" ol_text_shadow_horizontal_length="ol_text_shadow_style,%91object Object%93″ ol_text_shadow_horizontal_length_tablet="0px" ol_text_shadow_vertical_length="ol_text_shadow_style,%91object Object%93″ ol_text_shadow_vertical_length_tablet="0px" ol_text_shadow_blur_strength="ol_text_shadow_style,%91object Object%93″ ol_text_shadow_blur_strength_tablet="1px" quote_text_shadow_horizontal_length="quote_text_shadow_style,%91object Object%93″ quote_text_shadow_horizontal_length_tablet="0px" quote_text_shadow_vertical_length="quote_text_shadow_style,%91object Object%93″ quote_text_shadow_vertical_length_tablet="0px" quote_text_shadow_blur_strength="quote_text_shadow_style,%91object Object%93″ quote_text_shadow_blur_strength_tablet="1px" header_text_shadow_horizontal_length="header_text_shadow_style,%91object Object%93″ header_text_shadow_horizontal_length_tablet="0px" header_text_shadow_vertical_length="header_text_shadow_style,%91object Object%93″ header_text_shadow_vertical_length_tablet="0px" header_text_shadow_blur_strength="header_text_shadow_style,%91object Object%93″ header_text_shadow_blur_strength_tablet="1px" header_2_text_shadow_horizontal_length="header_2_text_shadow_style,%91object Object%93″ header_2_text_shadow_horizontal_length_tablet="0px" header_2_text_shadow_vertical_length="header_2_text_shadow_style,%91object Object%93″ header_2_text_shadow_vertical_length_tablet="0px" header_2_text_shadow_blur_strength="header_2_text_shadow_style,%91object Object%93″ header_2_text_shadow_blur_strength_tablet="1px" header_3_text_shadow_horizontal_length="header_3_text_shadow_style,%91object Object%93″ header_3_text_shadow_horizontal_length_tablet="0px" header_3_text_shadow_vertical_length="header_3_text_shadow_style,%91object Object%93″ header_3_text_shadow_vertical_length_tablet="0px" header_3_text_shadow_blur_strength="header_3_text_shadow_style,%91object Object%93″ header_3_text_shadow_blur_strength_tablet="1px" header_4_text_shadow_horizontal_length="header_4_text_shadow_style,%91object Object%93″ header_4_text_shadow_horizontal_length_tablet="0px" header_4_text_shadow_vertical_length="header_4_text_shadow_style,%91object Object%93″ header_4_text_shadow_vertical_length_tablet="0px" header_4_text_shadow_blur_strength="header_4_text_shadow_style,%91object Object%93″ header_4_text_shadow_blur_strength_tablet="1px" header_5_text_shadow_horizontal_length="header_5_text_shadow_style,%91object Object%93″ header_5_text_shadow_horizontal_length_tablet="0px" header_5_text_shadow_vertical_length="header_5_text_shadow_style,%91object Object%93″ header_5_text_shadow_vertical_length_tablet="0px" header_5_text_shadow_blur_strength="header_5_text_shadow_style,%91object Object%93″ header_5_text_shadow_blur_strength_tablet="1px" header_6_text_shadow_horizontal_length="header_6_text_shadow_style,%91object Object%93″ header_6_text_shadow_horizontal_length_tablet="0px" header_6_text_shadow_vertical_length="header_6_text_shadow_style,%91object Object%93″ header_6_text_shadow_vertical_length_tablet="0px" header_6_text_shadow_blur_strength="header_6_text_shadow_style,%91object Object%93″ header_6_text_shadow_blur_strength_tablet="1px" box_shadow_horizontal_tablet="0px" box_shadow_vertical_tablet="0px" box_shadow_blur_tablet="40px" box_shadow_spread_tablet="0px" z_index_tablet="500″]
[/et_pb_text][/et_pb_column][/et_pb_row][/et_pb_section][et_pb_section bb_built="1″ _builder_version="3.11″ inner_width="auto" inner_max_width="1080px" prev_background_color="#f4f4f4″ next_background_color="#000000″][et_pb_row _builder_version="3.11″ width="80%" max_width="1080px"][et_pb_column type="4_4″ custom_padding__hover="|||" custom_padding="|||"][et_pb_blog fullwidth="off" posts_number="3″ show_author="off" show_date="off" show_categories="off" _builder_version="3.11″]
[/et_pb_blog][/et_pb_column][/et_pb_row][/et_pb_section][et_pb_section bb_built="1″ fullwidth="on" _builder_version="3.12.2″ use_background_color_gradient="on" background_color_gradient_start="rgba(0,0,0,0.66)" background_color_gradient_end="rgba(0,0,0,0.66)" background_color_gradient_overlays_image="on" background_image="https://www.fitproleadgen.com/wp-content/uploads/2018/08/40231335_2150671258546666_24434438314131456_n.jpg" custom_padding="100px|0px|100px|0px|false|false" saved_tabs="all" inner_width="auto" inner_max_width="1080px" prev_background_color="#ffffff" next_background_color="#ffffff"][et_pb_fullwidth_header button_one_text="Download Your FREE %22Copy & Paste%22 Guide" button_one_url="1″ module_id="guide-blog" _builder_version="3.16″ title_font="|700|||||||" title_font_size="70px" content_font="||||||||" content_font_size="27px" content_line_height="1.1em" background_color="#7EBEC" custom_button_two="on" button_two_text_size="17px" button_two_text_color="#ffffff" button_two_bg_color="#000d63″ button_two_border_radius="100px" button_two_font="|700|||||||" custom_button_one="on" button_one_text_size="17px" button_one_text_color="#ffffff" button_one_bg_color="#e02b20″ button_one_border_radius="100px" button_one_font="|700|||||||" box_shadow_style_button_two="preset1″ box_shadow_style_button_one="preset1″ button_one_text_color_hover="#000000″ button_two_text_color_hover="#000000″ button_one_border_color_hover="#000000″ button_two_border_color_hover="#000000″ button_one_letter_spacing_hover="1px" button_two_letter_spacing_hover="1px" button_one_bg_color_hover="#ffffff" button_two_bg_color_hover="#ffffff" button_one_text_size__hover_enabled="off" button_one_text_size__hover="null" button_two_text_size__hover_enabled="off" button_two_text_size__hover="null" button_one_text_color__hover_enabled="on" button_one_text_color__hover="#000000″ button_two_text_color__hover_enabled="on" button_two_text_color__hover="#000000″ button_one_border_width__hover_enabled="off" button_one_border_width__hover="null" button_two_border_width__hover_enabled="off" button_two_border_width__hover="null" button_one_border_color__hover_enabled="on" button_one_border_color__hover="#000000″ button_two_border_color__hover_enabled="on" button_two_border_color__hover="#000000″ button_one_border_radius__hover_enabled="off" button_one_border_radius__hover="null" button_two_border_radius__hover_enabled="off" button_two_border_radius__hover="null" button_one_letter_spacing__hover_enabled="on" button_one_letter_spacing__hover="1px" button_two_letter_spacing__hover_enabled="on" button_two_letter_spacing__hover="1px" button_one_bg_color__hover_enabled="on" button_one_bg_color__hover="#ffffff" button_two_bg_color__hover_enabled="on" button_two_bg_color__hover="#ffffff"]
Hi I'm David 🙂
I Help FitPros Around The World Generate Leads On A Daily Basis, With Lead Generating Websites, Laser Targeted Facebook Ads and "The Portal"
[/et_pb_fullwidth_header][/et_pb_section][et_pb_section bb_built="1″ _builder_version="3.12.2″ custom_padding="0|0px|0|0px|false|false" prev_background_color="#000000″ inner_width="auto" inner_max_width="1080px" global_module="29642″][et_pb_row global_parent="29642″ use_custom_gutter="on" gutter_width="1″ custom_padding="0px|0px|0|0px|false|false" custom_margin="|||" make_equal="on" module_id="contact" module_class=" et_pb_row_fullwidth et_pb_row_fullwidth et_pb_row_fullwidth et_pb_row_fullwidth et_pb_row_fullwidth et_pb_row_fullwidth et_pb_row_fullwidth et_pb_row_fullwidth et_pb_row_fullwidth et_pb_row_fullwidth et_pb_row_fullwidth et_pb_row_fullwidth et_pb_row_fullwidth et_pb_row_fullwidth et_pb_row_fullwidth et_pb_row_fullwidth et_pb_row_fullwidth et_pb_row_fullwidth et_pb_row_fullwidth et_pb_row_fullwidth et_pb_row_fullwidth et_pb_row_fullwidth et_pb_row_fullwidth et_pb_row_fullwidth et_pb_row_fullwidth et_pb_row_fullwidth et_pb_row_fullwidth et_pb_row_fullwidth et_pb_row_fullwidth et_pb_row_fullwidth et_pb_row_fullwidth" _builder_version="3.25″ width="100%" width_tablet="100%" width_last_edited="on|desktop" max_width="100%" max_width_tablet="100%" max_width_last_edited="on|desktop" make_fullwidth="on" column_structure="1_2,1_2″][et_pb_column type="1_2″ global_parent="29642″ _builder_version="3.0.47″ background_color="#00194f" custom_padding="30px|20px|20px|70px" custom_padding_phone="|||20px" custom_padding_last_edited="on|phone" custom_padding__hover="|||"][et_pb_text global_parent="29642″ _builder_version="3.17.3″ text_font="|700|||||||" text_text_color="#ffffff" text_font_size="60px" text_line_height="1.1em" header_font="||||||||" custom_margin="||50px|" custom_margin_phone="||30px|" custom_margin_last_edited="on|phone" text_font_size_phone="40px" text_font_size_last_edited="on|phone"]
Let's Connect…
[/et_pb_text][et_pb_blurb global_parent="29642″ image="https://www.fitproleadgen.com/wp-content/uploads/2018/08/messenger_icon2.png" icon_placement="left" _builder_version="3.17.3″ header_font="||||||||" body_font="|700|||||||" body_text_color="#ffffff" body_font_size="25px" custom_margin="||30px|"]
[/et_pb_blurb][et_pb_blurb global_parent="29642″ image="https://www.fitproleadgen.com/wp-content/uploads/2018/08/facebook_circle-512.png" icon_placement="left" _builder_version="3.12.2″ body_font="|700|||||||" body_text_color="#ffffff" body_font_size="25px" custom_margin="||30px|"]
[/et_pb_blurb][et_pb_blurb global_parent="29642″ use_icon="on" font_icon="%%238%%" icon_color="#e02b20″ use_circle="on" circle_color="#ffffff" icon_placement="left" _builder_version="3.17.3″ header_font="||||||||" body_font="|700|||||||" body_text_color="#ffffff" body_font_size="25px" custom_margin="||20px|"]
By Email Using The Form
[/et_pb_blurb][/et_pb_column][et_pb_column type="1_2″ global_parent="29642″ _builder_version="3.0.47″ background_color="#00194f" custom_padding="30px|70px|20px|30px" custom_padding_phone="|||20px" custom_padding_last_edited="on|phone" custom_padding__hover="|||"][et_pb_contact_form global_parent="29642″ email="info@fitprowebdesign.com" title="How Can I Help?" custom_message="New Email from %%Name%%, %%Email%%, %%Phone%%||et_pb_line_break_holder||||et_pb_line_break_holder||Interested In: %%Service%%||et_pb_line_break_holder||||et_pb_line_break_holder||There Message: %%Message%%" success_message="Thank you for your message. One of the team will be in contact shortly." submit_button_text="Send My Message" module_id="et_pb_contact_form_0″ _builder_version="3.19.4″ title_font="|700|||||||" title_font_size="50px" custom_button="on" button_text_size="17px" button_text_color="#e02b20″ button_bg_color="#ffffff" button_border_radius="100px" button_font="|700|||||||" box_shadow_style_button="preset1″ button_text_color_hover="#000000″ button_bg_color_hover="#ffffff" button_border_color_hover="#000000″ button_letter_spacing_hover="1px"][et_pb_contact_field field_id="Name" field_title="Name" _builder_version="3.16″ border_radii="on||||" button_text_size__hover_enabled="off" button_one_text_size__hover_enabled="off" button_two_text_size__hover_enabled="off" button_text_color__hover_enabled="off" button_one_text_color__hover_enabled="off" button_two_text_color__hover_enabled="off" button_border_width__hover_enabled="off" button_one_border_width__hover_enabled="off" button_two_border_width__hover_enabled="off" button_border_color__hover_enabled="off" button_one_border_color__hover_enabled="off" button_two_border_color__hover_enabled="off" button_border_radius__hover_enabled="off" button_one_border_radius__hover_enabled="off" button_two_border_radius__hover_enabled="off" button_letter_spacing__hover_enabled="off" button_one_letter_spacing__hover_enabled="off" button_two_letter_spacing__hover_enabled="off" button_bg_color__hover_enabled="off" button_one_bg_color__hover_enabled="off" button_two_bg_color__hover_enabled="off"][/et_pb_contact_field][et_pb_contact_field field_id="Email" field_title="Email Address" field_type="email" _builder_version="3.16″ border_radii="on||||" button_text_size__hover_enabled="off" button_one_text_size__hover_enabled="off" button_two_text_size__hover_enabled="off" button_text_color__hover_enabled="off" button_one_text_color__hover_enabled="off" button_two_text_color__hover_enabled="off" button_border_width__hover_enabled="off" button_one_border_width__hover_enabled="off" button_two_border_width__hover_enabled="off" button_border_color__hover_enabled="off" button_one_border_color__hover_enabled="off" button_two_border_color__hover_enabled="off" button_border_radius__hover_enabled="off" button_one_border_radius__hover_enabled="off" button_two_border_radius__hover_enabled="off" button_letter_spacing__hover_enabled="off" button_one_letter_spacing__hover_enabled="off" button_two_letter_spacing__hover_enabled="off" button_bg_color__hover_enabled="off" button_one_bg_color__hover_enabled="off" button_two_bg_color__hover_enabled="off"][/et_pb_contact_field][et_pb_contact_field field_id="Phone" field_title="Phone Number" _builder_version="3.16″ border_radii="on||||" button_text_size__hover_enabled="off" button_one_text_size__hover_enabled="off" button_two_text_size__hover_enabled="off" button_text_color__hover_enabled="off" button_one_text_color__hover_enabled="off" button_two_text_color__hover_enabled="off" button_border_width__hover_enabled="off" button_one_border_width__hover_enabled="off" button_two_border_width__hover_enabled="off" button_border_color__hover_enabled="off" button_one_border_color__hover_enabled="off" button_two_border_color__hover_enabled="off" button_border_radius__hover_enabled="off" button_one_border_radius__hover_enabled="off" button_two_border_radius__hover_enabled="off" button_letter_spacing__hover_enabled="off" button_one_letter_spacing__hover_enabled="off" button_two_letter_spacing__hover_enabled="off" button_bg_color__hover_enabled="off" button_one_bg_color__hover_enabled="off" button_two_bg_color__hover_enabled="off"][/et_pb_contact_field][et_pb_contact_field field_id="Service" field_title="Interested In" field_type="select" select_options="%91{%22value%22:%22Facebook Ads Management%22,%22checked%22:0,%22dragID%22:-1},{%22value%22:%22Website & Membership Design%22,%22checked%22:0,%22dragID%22:0},{%22value%22:%22Social Media Management%22,%22checked%22:0,%22dragID%22:1},{%22value%22:%221-2-1 Digital Marketing Day%22,%22checked%22:0,%22dragID%22:2},{%22value%22:%22The Portal%22,%22checked%22:0,%22dragID%22:3}%93″ _builder_version="3.16″ border_radii="on||||" button_text_size__hover_enabled="off" button_one_text_size__hover_enabled="off" button_two_text_size__hover_enabled="off" button_text_color__hover_enabled="off" button_one_text_color__hover_enabled="off" button_two_text_color__hover_enabled="off" button_border_width__hover_enabled="off" button_one_border_width__hover_enabled="off" button_two_border_width__hover_enabled="off" button_border_color__hover_enabled="off" button_one_border_color__hover_enabled="off" button_two_border_color__hover_enabled="off" button_border_radius__hover_enabled="off" button_one_border_radius__hover_enabled="off" button_two_border_radius__hover_enabled="off" button_letter_spacing__hover_enabled="off" button_one_letter_spacing__hover_enabled="off" button_two_letter_spacing__hover_enabled="off" button_bg_color__hover_enabled="off" button_one_bg_color__hover_enabled="off" button_two_bg_color__hover_enabled="off"][/et_pb_contact_field][et_pb_contact_field field_id="Message" field_title="Message" field_type="text" fullwidth_field="on" _builder_version="3.16″ border_radii="on||||" button_text_size__hover_enabled="off" button_one_text_size__hover_enabled="off" button_two_text_size__hover_enabled="off" button_text_color__hover_enabled="off" button_one_text_color__hover_enabled="off" button_two_text_color__hover_enabled="off" button_border_width__hover_enabled="off" button_one_border_width__hover_enabled="off" button_two_border_width__hover_enabled="off" button_border_color__hover_enabled="off" button_one_border_color__hover_enabled="off" button_two_border_color__hover_enabled="off" button_border_radius__hover_enabled="off" button_one_border_radius__hover_enabled="off" button_two_border_radius__hover_enabled="off" button_letter_spacing__hover_enabled="off" button_one_letter_spacing__hover_enabled="off" button_two_letter_spacing__hover_enabled="off" button_bg_color__hover_enabled="off" button_one_bg_color__hover_enabled="off" button_two_bg_color__hover_enabled="off"][/et_pb_contact_field][/et_pb_contact_form][/et_pb_column][/et_pb_row][/et_pb_section]