Free Leads From Yesterdays LIVE
Yesterday we were talking about how to write emails & then going ahead and using them in your free Facebook group as your social media post too!
That way then, you're killing 2 birds with 1 stone
Anyone on your email list who has downloaded an ebook or requested to work with you before will get the content
But also anyone inside your Facebook group who you've interacted with will also get the content
I also forgot to tell you to use that content on your website for your blog ??
We don't talk about blogs much because social media has taken over ?
We used to write blogs, they would get ranked & people would find your content on google
And now, because less people are writing blogs there's a higher chance people will come across your blog & come and find out more about what you do ??
So, write that email, use it as a social post & also add it to your blog
When you write this blog, make sure you add some keywords in there
For example 'Our clients have been working really hard here at our Personal Training Facility in Cardiff'
'Personal Training' and 'Cardiff' are 2 keywords someone may type into google
This will then bring your blog post up
So, make sure you post your content on your website blog too ??
This will help to generate more leads from your website
After all, we want to generate leads from lots of different places
Facebook Ads, Emails, Website, Social Media Posts & Organically
….and this is what the Fitness Business Eco-System is all about
Give it a go!
David 🙂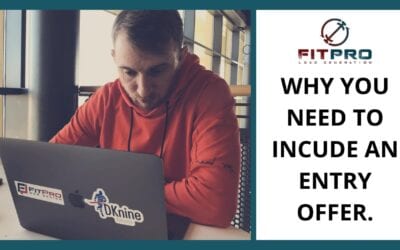 This week has been all about sales and convincing prospects to become a lead or purchase your programme 💸 Gary spoke all about behaviour change when it comes to generating leads and making sales Tuesday was 5 top tips 5️⃣ And Wednesday was what's working right now...
Hi I'm David 🙂
I Help FitPros Around The World Generate Leads On A Daily Basis, With Lead Generating Websites, Laser Targeted Facebook Ads and "The Portal"
Download Your FREE "Copy & Paste" Guide