[et_pb_section fb_built="1″ fullwidth="on" _builder_version="3.22″ use_background_color_gradient="on" background_color_gradient_start="rgba(0,0,0,0.8)" background_color_gradient_end="rgba(0,0,0,0.8)" background_position="top_center" custom_padding="0px|0px|0|0px|false|false"][et_pb_fullwidth_post_title meta="off" featured_placement="background" text_color="light" _builder_version="3.19.4″ title_font="|700||on|||||" title_text_align="center" title_font_size="70px" use_background_color_gradient="on" background_color_gradient_start="rgba(0,0,0,0.65)" background_color_gradient_end="rgba(0,0,0,0.65)" background_color_gradient_overlays_image="on" background_repeat="repeat" text_orientation="center" title_font_size_tablet="" title_font_size_phone="40px" title_font_size_last_edited="on|phone" title_text_shadow_style="preset1″]
[/et_pb_fullwidth_post_title][/et_pb_section][et_pb_section fb_built="1″ _builder_version="3.22″ background_color="#f4f4f4″ background_color_gradient_direction="167deg" custom_padding="|0px||0px|false|false"][et_pb_row _builder_version="3.25″ background_color="#ffffff" custom_margin="|||" custom_padding="20px|20px|0|22px|false|false" box_shadow_style="preset1″][et_pb_column type="4_4″ _builder_version="3.0.47″ custom_padding="|||" custom_padding__hover="|||"][et_pb_text _builder_version="4.0.3″ custom_padding="||0px|||" z_index_tablet="500″ hover_enabled="0″ text_text_shadow_horizontal_length_tablet="0px" text_text_shadow_vertical_length_tablet="0px" text_text_shadow_blur_strength_tablet="1px" link_text_shadow_horizontal_length_tablet="0px" link_text_shadow_vertical_length_tablet="0px" link_text_shadow_blur_strength_tablet="1px" ul_text_shadow_horizontal_length_tablet="0px" ul_text_shadow_vertical_length_tablet="0px" ul_text_shadow_blur_strength_tablet="1px" ol_text_shadow_horizontal_length_tablet="0px" ol_text_shadow_vertical_length_tablet="0px" ol_text_shadow_blur_strength_tablet="1px" quote_text_shadow_horizontal_length_tablet="0px" quote_text_shadow_vertical_length_tablet="0px" quote_text_shadow_blur_strength_tablet="1px" header_text_shadow_horizontal_length_tablet="0px" header_text_shadow_vertical_length_tablet="0px" header_text_shadow_blur_strength_tablet="1px" header_2_text_shadow_horizontal_length_tablet="0px" header_2_text_shadow_vertical_length_tablet="0px" header_2_text_shadow_blur_strength_tablet="1px" header_3_text_shadow_horizontal_length_tablet="0px" header_3_text_shadow_vertical_length_tablet="0px" header_3_text_shadow_blur_strength_tablet="1px" header_4_text_shadow_horizontal_length_tablet="0px" header_4_text_shadow_vertical_length_tablet="0px" header_4_text_shadow_blur_strength_tablet="1px" header_5_text_shadow_horizontal_length_tablet="0px" header_5_text_shadow_vertical_length_tablet="0px" header_5_text_shadow_blur_strength_tablet="1px" header_6_text_shadow_horizontal_length_tablet="0px" header_6_text_shadow_vertical_length_tablet="0px" header_6_text_shadow_blur_strength_tablet="1px" box_shadow_horizontal_tablet="0px" box_shadow_vertical_tablet="0px" box_shadow_blur_tablet="40px" box_shadow_spread_tablet="0px"]
First of all, I hope you all had a great day yesterday ?
I woke up about 9.00 am
Checked my phone and I had been tagged in 2 posts
2 members of the FitPro Portal had woken up to either a few new leads or a few sales ?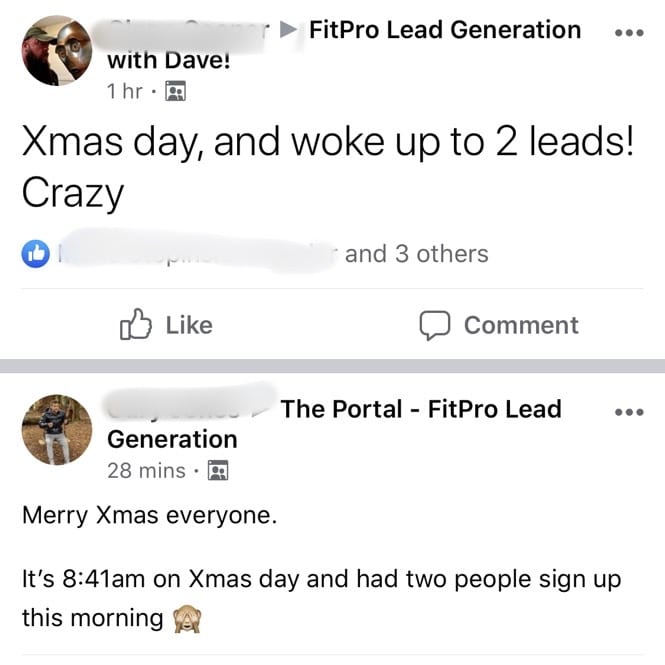 What a Christmas present for them right ?
We were even trying to egg him on to try and call the lead on Christmas Day ?
As the day went on, we also at DKnine Fitness had a few applications come in
Now one thing I go on about a lot inside The FitPro Portal and I have written about it a few times too
Is having a series of automations in place once the lead comes in
For example, when the application came in Yesterday, the person replied to the auto-text that get's sent out and said that she would be able to speak tomorrow
They would have also had an email telling them more about the programme and what they have just requested more information about
All of this leads to one thing…
Keeping that lead warm ?
Yesterday is the perfect reason why we do this
They will have seen the advert and left their details
Yet they will also be busy doing all the usual Christmas Day stuff
Probably forgetting that they applied about 30 minutes ago
But if you had an auto-text letting them know we got their request and will be in contact, that gets sent to them 10 minutes after requesting more information
It stays front of mind that they requested more information from us
Then when they sit down and go through their emails in the evening, they see that email from us
Again triggering them to remember about us and to be ready for when we call
Therefore as its Boxing Day, and there will be a good chance you don't have anything much planned for today… Go get this stuff done really quickly
✅ Automated text the minute they request more information, telling them that you got their details and you will be in contact shortly. Make sure you add in a CTA into the text message too
✅ An email follow-up campaign, say 5-7 days. That is filled with trust and value to keep warming the lead up to not only expect your call but to also get them ready for the consultations that you are going to book them in for ?
Getting this stuff in place now will massively give you the edge over your competition come the new year ?
David 🙂
Ps… did you know all of this can be found inside The FitPro Portal❓❓
We show you how to set up the automated text message and give you the texts ?
We show you how to set up the automated emails and give you the follow-up series ?
We even show you how to create the Facebook advert and give you the ads copy that is going to get them to opt-in to begin the whole lead generation sequence ?
Learn more here: www.TheFitProPortal.com
[/et_pb_text][et_pb_divider color="#000000″ _builder_version="3.12.2″ height="0px" custom_margin="||0px|" custom_padding="||0px|"]
[/et_pb_divider][et_pb_text _builder_version="3.27.4″ custom_margin="0px||0px|" custom_padding="0px||0px|" z_index_tablet="500″ text_text_shadow_horizontal_length_tablet="0px" text_text_shadow_vertical_length_tablet="0px" text_text_shadow_blur_strength_tablet="1px" link_text_shadow_horizontal_length_tablet="0px" link_text_shadow_vertical_length_tablet="0px" link_text_shadow_blur_strength_tablet="1px" ul_text_shadow_horizontal_length_tablet="0px" ul_text_shadow_vertical_length_tablet="0px" ul_text_shadow_blur_strength_tablet="1px" ol_text_shadow_horizontal_length_tablet="0px" ol_text_shadow_vertical_length_tablet="0px" ol_text_shadow_blur_strength_tablet="1px" quote_text_shadow_horizontal_length_tablet="0px" quote_text_shadow_vertical_length_tablet="0px" quote_text_shadow_blur_strength_tablet="1px" header_text_shadow_horizontal_length_tablet="0px" header_text_shadow_vertical_length_tablet="0px" header_text_shadow_blur_strength_tablet="1px" header_2_text_shadow_horizontal_length_tablet="0px" header_2_text_shadow_vertical_length_tablet="0px" header_2_text_shadow_blur_strength_tablet="1px" header_3_text_shadow_horizontal_length_tablet="0px" header_3_text_shadow_vertical_length_tablet="0px" header_3_text_shadow_blur_strength_tablet="1px" header_4_text_shadow_horizontal_length_tablet="0px" header_4_text_shadow_vertical_length_tablet="0px" header_4_text_shadow_blur_strength_tablet="1px" header_5_text_shadow_horizontal_length_tablet="0px" header_5_text_shadow_vertical_length_tablet="0px" header_5_text_shadow_blur_strength_tablet="1px" header_6_text_shadow_horizontal_length_tablet="0px" header_6_text_shadow_vertical_length_tablet="0px" header_6_text_shadow_blur_strength_tablet="1px" box_shadow_horizontal_tablet="0px" box_shadow_vertical_tablet="0px" box_shadow_blur_tablet="40px" box_shadow_spread_tablet="0px"]
[/et_pb_text][/et_pb_column][/et_pb_row][/et_pb_section][et_pb_section fb_built="1″ _builder_version="3.22″][et_pb_row _builder_version="3.25″][et_pb_column type="4_4″ _builder_version="3.0.47″ custom_padding="|||" custom_padding__hover="|||"][et_pb_blog fullwidth="off" posts_number="3″ show_author="off" show_date="off" show_categories="off" _builder_version="3.11″]
[/et_pb_blog][/et_pb_column][/et_pb_row][/et_pb_section][et_pb_section fb_built="1″ fullwidth="on" _builder_version="3.22″ use_background_color_gradient="on" background_color_gradient_start="rgba(0,0,0,0.66)" background_color_gradient_end="rgba(0,0,0,0.66)" background_color_gradient_overlays_image="on" background_image="https://www.fitproleadgen.com/wp-content/uploads/2018/08/40231335_2150671258546666_24434438314131456_n.jpg" custom_padding="100px|0px|100px|0px|false|false" saved_tabs="all"][et_pb_fullwidth_header button_one_text="Download Your FREE %22Copy & Paste%22 Guide" button_one_url="1″ module_id="guide-blog" _builder_version="3.16″ title_font="|700|||||||" title_font_size="70px" content_font="||||||||" content_font_size="27px" content_line_height="1.1em" background_color="#7EBEC" custom_button_one="on" button_one_text_size="17px" button_one_text_color="#ffffff" button_one_bg_color="#e02b20″ button_one_border_radius="100px" button_one_font="|700|||||||" custom_button_two="on" button_two_text_size="17px" button_two_text_color="#ffffff" button_two_bg_color="#000d63″ button_two_border_radius="100px" button_two_font="|700|||||||" box_shadow_style_button_one="preset1″ box_shadow_style_button_two="preset1″ button_one_text_color_hover="#000000″ button_two_text_color_hover="#000000″ button_one_border_color_hover="#000000″ button_two_border_color_hover="#000000″ button_one_letter_spacing_hover="1px" button_two_letter_spacing_hover="1px" button_one_bg_color_hover="#ffffff" button_two_bg_color_hover="#ffffff" button_one_text_size__hover_enabled="off" button_one_text_size__hover="null" button_two_text_size__hover_enabled="off" button_two_text_size__hover="null" button_one_text_color__hover_enabled="on" button_one_text_color__hover="#000000″ button_two_text_color__hover_enabled="on" button_two_text_color__hover="#000000″ button_one_border_width__hover_enabled="off" button_one_border_width__hover="null" button_two_border_width__hover_enabled="off" button_two_border_width__hover="null" button_one_border_color__hover_enabled="on" button_one_border_color__hover="#000000″ button_two_border_color__hover_enabled="on" button_two_border_color__hover="#000000″ button_one_border_radius__hover_enabled="off" button_one_border_radius__hover="null" button_two_border_radius__hover_enabled="off" button_two_border_radius__hover="null" button_one_letter_spacing__hover_enabled="on" button_one_letter_spacing__hover="1px" button_two_letter_spacing__hover_enabled="on" button_two_letter_spacing__hover="1px" button_one_bg_color__hover_enabled="on" button_one_bg_color__hover="#ffffff" button_two_bg_color__hover_enabled="on" button_two_bg_color__hover="#ffffff"]
Hi I'm David 🙂
I Help FitPros Around The World Generate Leads On A Daily Basis, With Lead Generating Websites, Laser Targeted Facebook Ads and "The Portal"
[/et_pb_fullwidth_header][/et_pb_section][et_pb_section fb_built="1″ _builder_version="3.26.6″ background_color="#00194f" custom_padding="0|0px|0|0px|false|false" global_module="29642″][et_pb_row _builder_version="3.26.6″][et_pb_column type="4_4″ _builder_version="3.26.6″][et_pb_text _builder_version="3.26.6″ text_font="|700|||||||" text_text_color="#ffffff" text_font_size="60px" text_line_height="1.1em" header_font="||||||||" text_orientation="center" custom_margin="||1px|||" custom_margin_tablet="" custom_margin_phone="||30px|" custom_margin_last_edited="on|phone" text_font_size_tablet="" text_font_size_phone="40px" text_font_size_last_edited="on|phone" text_text_align="center"]
Let's Connect…
[/et_pb_text][/et_pb_column][/et_pb_row][et_pb_row column_structure="1_6,1_6,1_6,1_6,1_6,1_6″ use_custom_gutter="on" gutter_width="1″ _builder_version="3.26.6″ width="100%" module_alignment="center" custom_margin="||||false|false" custom_padding="||3px|||"][et_pb_column type="1_6″ _builder_version="3.26.6″][et_pb_blurb url="https://www.facebook.com/davidkylept" image="https://www.fitproleadgen.com/wp-content/uploads/2019/08/5-1.png" image_max_width="50%" _builder_version="3.26.6″ header_level="h1″ header_font_size="10px" body_font="|700|||||||" body_text_align="center" body_text_color="#ffffff" body_font_size="15px" custom_margin="||30px|"]
Message Me Personally On FB
[/et_pb_blurb][/et_pb_column][et_pb_column type="1_6″ _builder_version="3.26.6″][et_pb_blurb url="https://www.facebook.com/fitprowebdesign/" image="https://www.fitproleadgen.com/wp-content/uploads/2019/08/1-1.png" image_max_width="50%" _builder_version="3.26.6″ header_level="h1″ header_font_size="10px" body_font="|700|||||||" body_text_align="center" body_text_color="#ffffff" body_font_size="15px" custom_margin="||30px|"]
Message The Facebook Page
[/et_pb_blurb][/et_pb_column][et_pb_column type="1_6″ _builder_version="3.26.6″][et_pb_blurb url="https://www.facebook.com/groups/1238186096304055/" image="https://www.fitproleadgen.com/wp-content/uploads/2019/08/6-1.png" image_max_width="50%" _builder_version="3.26.6″ header_level="h1″ header_font_size="10px" body_font="|700|||||||" body_text_align="center" body_text_color="#ffffff" body_font_size="15px" custom_margin="||30px|"]
Join The Facebook Community
[/et_pb_blurb][/et_pb_column][et_pb_column type="1_6″ _builder_version="3.26.6″][et_pb_blurb url="https://www.instagram.com/fitprowebdesign/" image="https://www.fitproleadgen.com/wp-content/uploads/2019/08/2-1.png" image_max_width="50%" _builder_version="3.26.6″ header_level="h1″ header_font_size="10px" body_font="|700|||||||" body_text_align="center" body_text_color="#ffffff" body_font_size="15px" custom_margin="||30px|"]
Message Us On Instagram
[/et_pb_blurb][/et_pb_column][et_pb_column type="1_6″ _builder_version="3.26.6″][et_pb_blurb url="https://www.linkedin.com/in/davidkno9/" image="https://www.fitproleadgen.com/wp-content/uploads/2019/08/4-1.png" image_max_width="50%" _builder_version="3.26.6″ header_level="h1″ header_font_size="10px" body_font="|700|||||||" body_text_align="center" body_text_color="#ffffff" body_font_size="15px" custom_margin="||30px|"]
Message Us On LinkedIn
[/et_pb_blurb][/et_pb_column][et_pb_column type="1_6″ _builder_version="3.26.6″][et_pb_blurb url="https://www.youtube.com/channel/UCv4APz2nL5CVm-vngphvJAg" image="https://www.fitproleadgen.com/wp-content/uploads/2019/08/3-1.png" image_max_width="50%" _builder_version="3.26.6″ header_level="h1″ header_font_size="10px" body_font="|700|||||||" body_text_align="center" body_text_color="#ffffff" body_font_size="15px" custom_margin="||30px|"]
Watch Us On YouTube
[/et_pb_blurb][/et_pb_column][/et_pb_row][et_pb_row module_id="contact" module_class=" et_pb_row_fullwidth et_pb_row_fullwidth et_pb_row_fullwidth et_pb_row_fullwidth et_pb_row_fullwidth et_pb_row_fullwidth et_pb_row_fullwidth et_pb_row_fullwidth et_pb_row_fullwidth et_pb_row_fullwidth et_pb_row_fullwidth et_pb_row_fullwidth et_pb_row_fullwidth et_pb_row_fullwidth et_pb_row_fullwidth et_pb_row_fullwidth et_pb_row_fullwidth et_pb_row_fullwidth et_pb_row_fullwidth et_pb_row_fullwidth et_pb_row_fullwidth et_pb_row_fullwidth et_pb_row_fullwidth et_pb_row_fullwidth et_pb_row_fullwidth et_pb_row_fullwidth et_pb_row_fullwidth et_pb_row_fullwidth et_pb_row_fullwidth et_pb_row_fullwidth et_pb_row_fullwidth" _builder_version="3.26.6″ background_color="#00194f" width_tablet="100%" width_phone="" width_last_edited="on|desktop" max_width_tablet="100%" max_width_phone="" max_width_last_edited="on|desktop" custom_margin="|||" custom_padding="0px|0px|0|0px|false|false" make_fullwidth="on"][et_pb_column type="4_4″ _builder_version="3.26.6″ background_color="#00194f" custom_padding="30px|20px|20px|70px" custom_padding_tablet="" custom_padding_phone="|||20px" custom_padding_last_edited="on|phone" custom_padding__hover="|||"][et_pb_contact_form email="info@fitproleadgen.com" custom_message="New Email from %%Name%%, %%Email%%, %%Phone%%||et_pb_line_break_holder||||et_pb_line_break_holder||Interested In: %%Service%%||et_pb_line_break_holder||||et_pb_line_break_holder||There Message: %%Message%%" success_message="Thank you for your message. One of the team will be in contact shortly." submit_button_text="Send My Message" module_id="et_pb_contact_form_0″ _builder_version="4.0.3″ title_font="|700|||||||" title_font_size="50px" custom_button="on" button_text_size="17px" button_text_color="#ffffff" button_bg_color="#A52026″ button_border_radius="10px" button_font="|700|||||||" box_shadow_style_button="preset1″ button_letter_spacing__hover_enabled="on" button_letter_spacing__hover="1px" button_text_color_hover="#000000″ button_bg_color_hover="#ffffff" button_border_color_hover="#000000″ button_letter_spacing_hover="1px"][et_pb_contact_field field_id="Name" field_title="Name" _builder_version="3.26.6″ button_text_size__hover_enabled="off" button_one_text_size__hover_enabled="off" button_two_text_size__hover_enabled="off" button_text_color__hover_enabled="off" button_one_text_color__hover_enabled="off" button_two_text_color__hover_enabled="off" button_border_width__hover_enabled="off" button_one_border_width__hover_enabled="off" button_two_border_width__hover_enabled="off" button_border_color__hover_enabled="off" button_one_border_color__hover_enabled="off" button_two_border_color__hover_enabled="off" button_border_radius__hover_enabled="off" button_one_border_radius__hover_enabled="off" button_two_border_radius__hover_enabled="off" button_letter_spacing__hover_enabled="off" button_one_letter_spacing__hover_enabled="off" button_two_letter_spacing__hover_enabled="off" button_bg_color__hover_enabled="off" button_one_bg_color__hover_enabled="off" button_two_bg_color__hover_enabled="off"][/et_pb_contact_field][et_pb_contact_field field_id="Email" field_title="Email Address" field_type="email" _builder_version="3.26.6″ button_text_size__hover_enabled="off" button_one_text_size__hover_enabled="off" button_two_text_size__hover_enabled="off" button_text_color__hover_enabled="off" button_one_text_color__hover_enabled="off" button_two_text_color__hover_enabled="off" button_border_width__hover_enabled="off" button_one_border_width__hover_enabled="off" button_two_border_width__hover_enabled="off" button_border_color__hover_enabled="off" button_one_border_color__hover_enabled="off" button_two_border_color__hover_enabled="off" button_border_radius__hover_enabled="off" button_one_border_radius__hover_enabled="off" button_two_border_radius__hover_enabled="off" button_letter_spacing__hover_enabled="off" button_one_letter_spacing__hover_enabled="off" button_two_letter_spacing__hover_enabled="off" button_bg_color__hover_enabled="off" button_one_bg_color__hover_enabled="off" button_two_bg_color__hover_enabled="off"][/et_pb_contact_field][et_pb_contact_field field_id="Message" field_title="Message" field_type="text" fullwidth_field="on" _builder_version="3.16″ button_text_size__hover_enabled="off" button_one_text_size__hover_enabled="off" button_two_text_size__hover_enabled="off" button_text_color__hover_enabled="off" button_one_text_color__hover_enabled="off" button_two_text_color__hover_enabled="off" button_border_width__hover_enabled="off" button_one_border_width__hover_enabled="off" button_two_border_width__hover_enabled="off" button_border_color__hover_enabled="off" button_one_border_color__hover_enabled="off" button_two_border_color__hover_enabled="off" button_border_radius__hover_enabled="off" button_one_border_radius__hover_enabled="off" button_two_border_radius__hover_enabled="off" button_letter_spacing__hover_enabled="off" button_one_letter_spacing__hover_enabled="off" button_two_letter_spacing__hover_enabled="off" button_bg_color__hover_enabled="off" button_one_bg_color__hover_enabled="off" button_two_bg_color__hover_enabled="off"][/et_pb_contact_field][/et_pb_contact_form][/et_pb_column][/et_pb_row][/et_pb_section]